Did you see the little hole in the bark? Are you worried about what it is? You are likely to encounter a tree beetle. Continue reading below for information on how to identify and protect against tree beetles.
What do bark beetles look like?

Bark beetles are common coniferous (pine) pests. Adults are small, cylindrical, hard-bodied insects about the size of a grain of rice. Most species are dark red, brown or black.
What are the main indicators of infection?
This pest feeds on the outer and inner bark of tree trunks, branches or twigs. The beetle's activity loosens the outer part of the affected area, and when the skin peels off, the exit hole and tunnel are revealed. This is a sign that the tree is infested.
How to get rid of them and prevent further damage?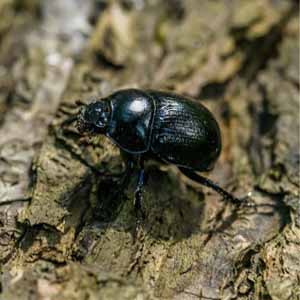 Once a tree is damaged there is little you can do to manage the infestation. Pesticide management is difficult because beetles live in sheltered environments beneath the surface of trees.
Cutting down affected trees and immediately removing, burning or splitting the contaminated material at the site can result in the emergence of large numbers of beetles that can damage surrounding host trees. Do not place infested debris near living trees or plants.
Learn about the cultural needs of trees and how to give them the right care to keep them growing strong. There are only plant species that can thrive in the environment in which they are planted. Healthy trees are less likely to be attacked and can withstand attacks from these pests.
In planted terrain, beetle and tree borer mortality is limited due to the combination of tree and shrub species.
If you think your tree is infested with beetles, don't panic. Keep a close eye on the tree for small holes or peeling bark. Damage caused by these pests can be protected and prevented with proper treatment and education.
Tree Soldiers – All tree cutting and other services. Experts in tree removal, stump demolition, stump removal, tree trimming, tree mulching, tree pruning and emergency tree removal in New York!