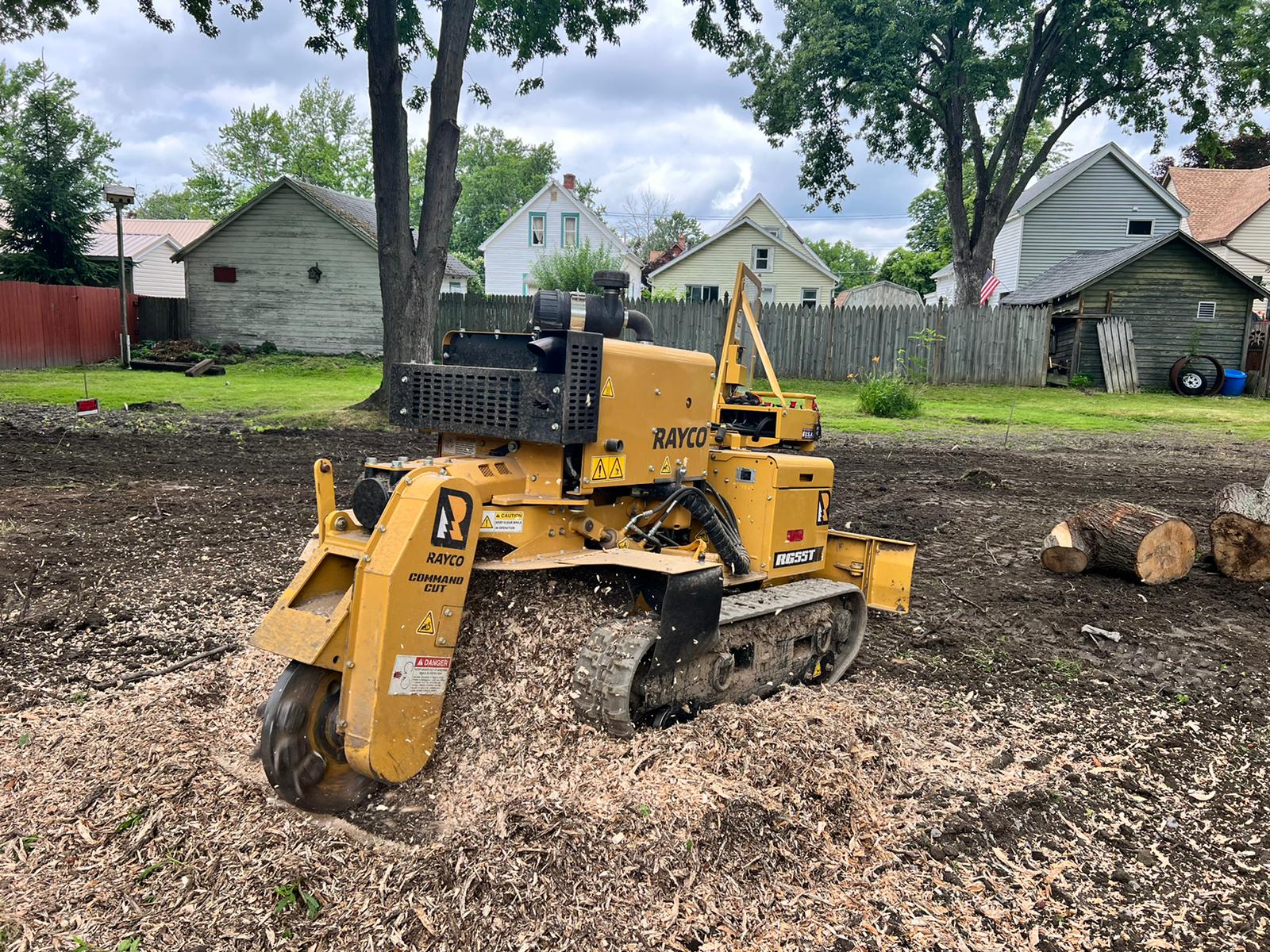 Many people do not really understand stump grinding. It's way different from the traditional stump removal techniques.
Interestingly not everyone knows to run a stump grinder. It takes a lot of practice, skills, and patience to master the skills of stump grinding.
Curious to know how? Dig into the following to finely grasp the whole process of stump grinding that our experts use to grind away those ugly stumps.
Processes involved in a stump grinding 
A Prior Examination is Crucial
Does two or more stumps look the same in your yard? You may see it somewhat similar at a first glance, but trust us they aren't. You are just seeing the surface while you are unaware of the growth beneath the ground.
Some stumps may have strong woods at the center, while others are a little softer. Before jumping onto the job, understand what type of stump you're dealing with. Then find the circumference of your tree stump and multiply the diameter by 1.5. By doing so, you will find the critical zone of your stump root radius. Then, you can perfectly measure out roots and grind the stump.
Now that you know how important the assessment is, next, we will know about stump grinder machines.
Selecting The Stump Grinder
When buying a stump grinder for the first time, you need to consider the following factors:
✔Stump diameter
✔Stump height
With the factors being taken care of, let's get into the types of grinders available. Usually, there are two basic kinds of stump grinders:
This type of stump grinder is manipulated by hand. In fact, it's the easiest machine to operate, especially if you are an amateur in stump grinding. But you cannot avoid holding the handles while operating.
If you're a DIY person – we are sure you'll love it!
Usually, professionals use this kind of stump grinding machine. As the name implies, this machine is towed behind a trailer of a truck. And then they are placed over your tree stump. You can use them only for those large stumps that need substantial grinding.
The Grinding Process
The process that follows after choosing the stump grinder is really simple. All you need to do is position the grinder over the stump and start the job. But, you have to be careful in using lifting tools to avoid accidents.
As you correctly set the width and height, lock the grinder in your stump, hold the machine properly, and start grinding your stump.
Caution and points to note when buying a stump grinder:
⚠ Buy a grinder with an attached hose because it will capture the wood chips and through them in the right position.
⚠ Grinding chips may fly, so use proper caution and protection.
⚠ Wear eye protection.
⚠ Wear heavy and long clothes to avoid injury.
⚠ Do not move the grinder too fast as the grinder may seize and invite complications.
Taking Care of The Disposed Chips
After stump grinding, you'll left with a skirt or a halo of wood chips – which is often hard to manage. The good news is you can prepare it beforehand to make your job easier. As we've mentioned earlier, buy a stump grinder with a hose. And by doing so, you do not have to worry about collecting the chips all by yourself.
The hose will collect it for you and the job would be done in the most efficient and simple manner. 
But if you hire a professional stump grinding service, they'd follow the below steps:
Place a plastic skirt across your stump (large enough to gather all the chips while falling).
Wrap the chips skirt or scoop off the chips into a large sack.
The leftover chips from the ground would be picked and collected in the bag.
Once done, they'll dispose of the chips' bag in the correct location.
After reading this, don't you realize that professional stump grinding makes the job much easier? Well, indeed you are sparred from a lot of trouble! If you hire us, our professionals will get rid of your stump right away.
Challenges of a DIY stump grinding
Risk of property damage.
Cost of buying or renting a stump grinder.
Burden of the leftover chips.
Technical knowledge of running the stump grinder.
Get helped by the professionals in town
Are you looking for professional stump grinding near Buffalo? If you are, then you have clicked on the right link. At Tree Soldiers, our professionals are trained in stump grinding prior to the job. In fact, we even offer time-to-time updated stump grinding training.
If you are concerned about stump grinding costs, then we can have a talk. With just a phone call you can get your free estimate.
Contact Tree Soldiers for Top-notch Stump Grinding!
Click for The Ful Audio Version