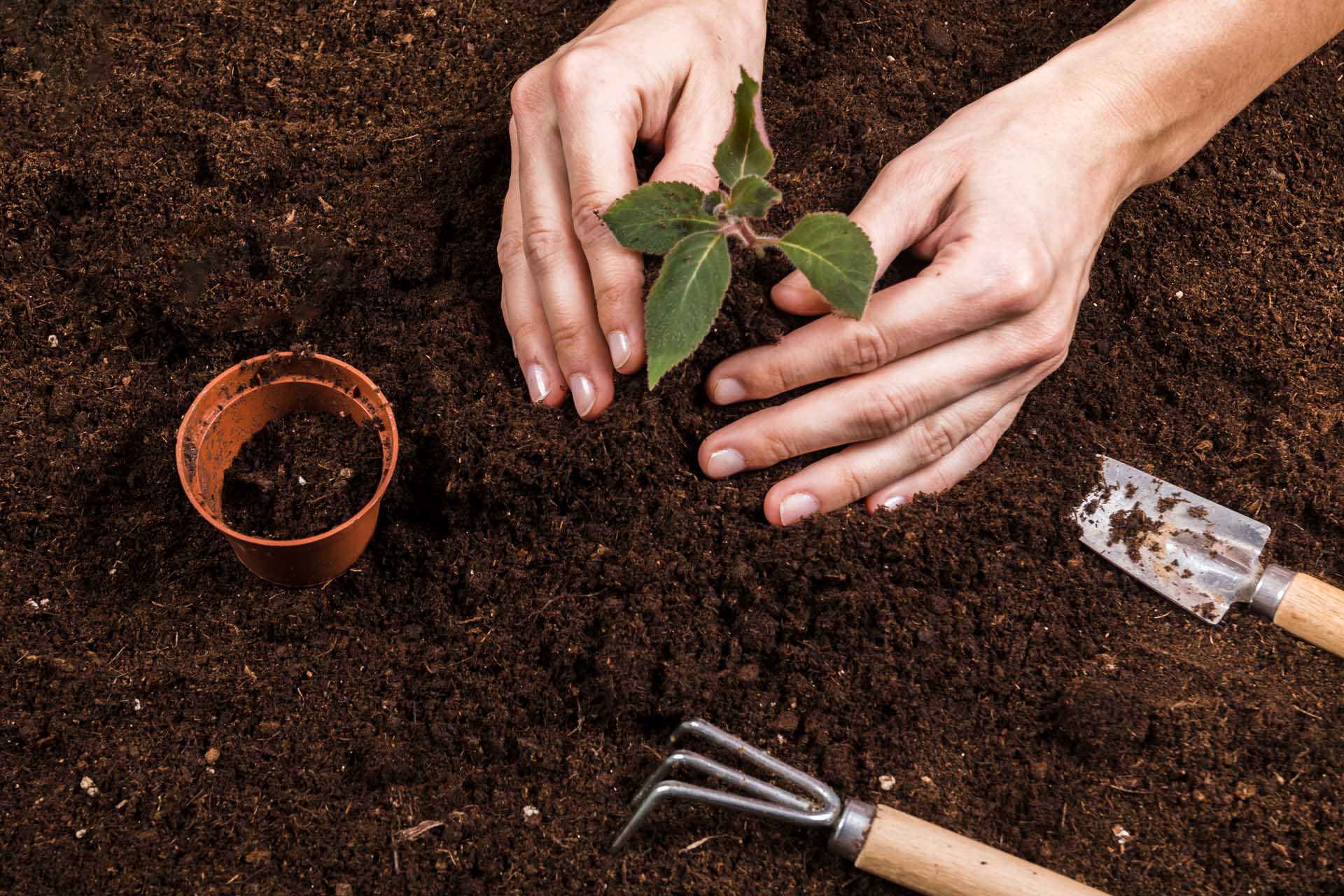 Trees benefit the environment while also adding beauty to it. Learn how to plant correctly.
Trees are vital to our landscape, providing beauty and welcome shade. Planting near your home also provides environmental benefits, including purifying the air, attracting wildlife, and reducing energy costs. Many trees also have other bonuses, such as colorful flowers, delicious fruits and nuts, and in some cases serve as natural playgrounds for our children.
Now is the time to add trees to your landscape to take advantage of the benefits they offer. But before you head to the tree nursery, let's take a look at the best time to plant a tree and how to do so correctly.
Why you should plant trees
Adding trees to your garden is an important decision that should not be taken lightly. Before you buy something, take the time to ask yourself why you want it.
We know that trees are great for increasing curb appeal, but there are other ways to utilize trees in your home landscape. Trees can provide shade for windows or patios that receive afternoon sunlight, which can also help keep energy costs down. Planting trees with colorful flowers or foliage is a great way to add interest to a landscape that needs color. And trees can block out unsightly sights and noises on busy streets.
Trees provide a wealth of environmental benefits. According to the U.S. Department of Energy, planting trees at home can save up to 25% on a home's heating and cooling energy consumption.
Other environmental benefits
Trees purify the air by absorbing pollutants and carbon dioxide and producing oxygen.
Trees provide shelter and food for wildlife.
Trees can help conserve water by slowing evaporation from plants growing in the shade.
Trees add tremendous aesthetic value. In addition to the color, height, and texture that trees provide, their branch structures and attractive foliage soften the edges of buildings, provide screening, and provide attractive views. Statistics cited by the Arbor Day Foundation show that not only do trees add beauty to your landscape, but they can also increase property value by up to 20 percent.
Are you ready to redesign your garden? Find a landscape designer near you on Tree Soldiers.
How to choose the right tree
Once you've decided why you're planting a tree, it's time to figure out which tree will best suit your needs. What benefits do you want from your tree?
Saving energy: Choose large deciduous trees that will provide shade for your home from spring through fall and allow sunlight to shine after the leaves fall in winter.
Shade: To maximize the amount of shade a tree produces, choose trees with wide canopies. If you want year-round shade, choose trees that are evergreen and don't shed their leaves in the winter.
Color: Choose a tree with colorful leaves or a tree that blooms year-round, such as a plum tree with purple leaves. Of course, you can always choose a tree whose leaves create a vibrant fall scene.
Fruit: Fruit trees do double duty by adding beauty with attractive foliage and pretty spring flowers and providing delicious fruit.
Neatness: It is important to note that some trees are messier than others. If you're planting trees near a swimming pool, choose trees that don't produce messy flowers, pods, or both. If possible, plant evergreens near ponds, swimming pools or other areas you want to keep clean.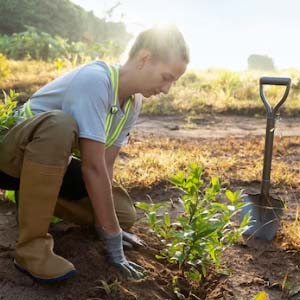 Site checklist. Before planting a tree, certain variables must be addressed.
How many rooms are there? This makes tree selection much easier as you can remove any trees that are too large or too small.
Are there any potential obstacles? Avoid near power lines, nearby structures, or underground power lines near trees.
Is there irrigation? Make sure you have a water source nearby, whether it's an irrigation system or a hose.
When to buy and plant trees
It is best to plant when the tree is dormant. This occurs when leaves fall in the fall, and just before leaf buds begin to swell in late winter or early spring. Planting your trees during this period will give their roots time to grow before warmer weather encourages new top growth. 
Of course, trees can be planted at any time of the year, but the first summer may require special care, including proper watering.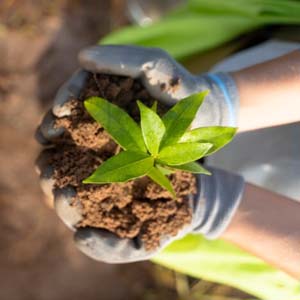 When you visit your local tree nursery, you can see trees in a variety of containers, and even trees without containers at all. Place the tree in a box or plastic nursery container and wrap it with burlap, other fabric, or even wire. Bare root trees have no containers at all.
Except for bare root trees, which can only be planted from late fall to early spring, the type of pot does not have a significant effect on when to plant a tree.
How to plant a tree
Drill the hole accurately. The size of the hole plays an important role in how quickly the tree establishes and grows. Studies have shown that digging an appropriately sized hole significantly increases a tree's growth rate after planting.
The hole should be three times wider than the tree's root ball and should be dish-shaped. This allows for good root growth and development because most of the tree's roots grow outwards into the upper part of the soil where oxygen levels are high.
The hole should be the same depth or slightly lower than the root ball. Trees do not like to be planted deeply. This is because the amount of oxygen available to the root's decreases. Additionally, trees tend to sit a little lower after planting.
If you use an auger to create your planting hole, you can lightly scrape the edges of the hole to break up the "glazing" the auger creates. This limits water movement and root penetration.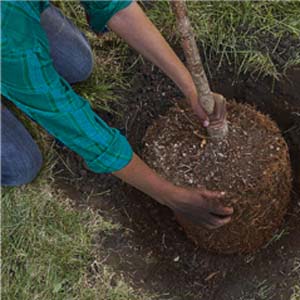 This photo shows a hole that is incorrectly sized for the wood. It's too narrow and a little deep. The trees in these holes grew, but at a slower rate than trees planted in larger holes nearby.
Place the tree. Gently remove any remaining soil above the root ball until you see where the main roots are starting to sprout. Trees often have a 2- to 3-inch-thick layer of soil or mulch covering the top of the root ball. This can limit the amount of oxygen available to the roots. Especially since trees tend to sink a few inches after they are planted.
How you plant a tree will depend on the material surrounding the tree's roots. For wooden crates, place the wood in the hole with the wood remaining in the crate and then remove the sides of the crate. The bottom of the box should be left alone as it provides a solid foundation for the tree and does not impede root growth that occurs outward.
If the root ball is covered with burlap or other natural mulch, spread the mulch into the hole before removing it. Remove about 2/3 of the cover. It is okay to cover the floor with burlap. Synthetic coverings must be completely removed.
When ready, place the wood in the center of the hole. Before planting your tree, measure the root ball and hole to make sure the hole is the right size. Once the tree is in the hole, the tree's root flare should remain above the ground, where large roots will begin to protrude from the trunk.
Trees placed in plastic nursery containers can be planted by cutting out the container. The best method is to first lay the tree on its side on the ground and then use a hand pruner or knife to cut the bottom of the container. You can remove the rest of the plastic container by inserting the wood into the hole and cutting two sections along the sides of the container. Do not remove the tree from its container as this may damage the roots.
No matter what container your tree is in, it is important to inspect the roots once they are placed in the hole. If roots are hanging around the root ball, this can cause future problems with the girdling that need to be addressed before planting. Use a pruning saw to remove the outer inches of soil. This will help break the circulating roots and encourage them to grow outward.
Fill the holes. This step is the easiest and consists of filling the hole with the same dirt that was dug to create it. Add backfill to the hole around the tree, being careful not to break any large chunks. After filling the hole, create a berm around the hole to create a basin to hold the water so it can seep deeper around the tree. Watering immediately after sowing will stabilize the soil and remove air pockets.
Fertilizing during planting is not necessary and, in fact, not recommended. Numerous studies have shown that adding substances other than native soil can actually stunt tree growth. The roots of trees planted in improved soil tend to stay within their original holes rather than moving out, which can stunt the tree's growth. Additionally, trees planted in amended soil tend to retain too much water and cause excessive sedimentation as organic amendments decompose and shrink in volume over time.
Water and mulch. Newly growing trees need more water during the first year to help them establish roots, especially in the first few weeks after planting. Often homeowners overwater newly planted trees, causing the leaves to turn yellow and fall off. Watering frequency may vary depending on your location, so it is best to check the recommended watering schedule with your local cooperative extension office or the nursery where you purchased your tree.
Add a 2- to 4-inch layer of mulch, such as shredded bark, compost or wood chips, around the new tree, covering the entire planting area. To prevent fungal disease or pest problems, keep the mulch 6 inches from the tree trunk. Adding mulch helps regulate soil temperature, eliminate weeds, and maintain soil moisture. Plus, as the mulch decomposes, it improves the soil.
No fertilizer should be added to the tree in the first year. Fertilizers can burn young tree roots and stimulate excessive leaf growth before the tree has enough roots to support them.
Learn more about:
Tips for beginner gardeners.
Browse other gardening guides.
For outdoor projects, work with a landscaping contractor.
Shop for shovels, rakes and other gardening tools